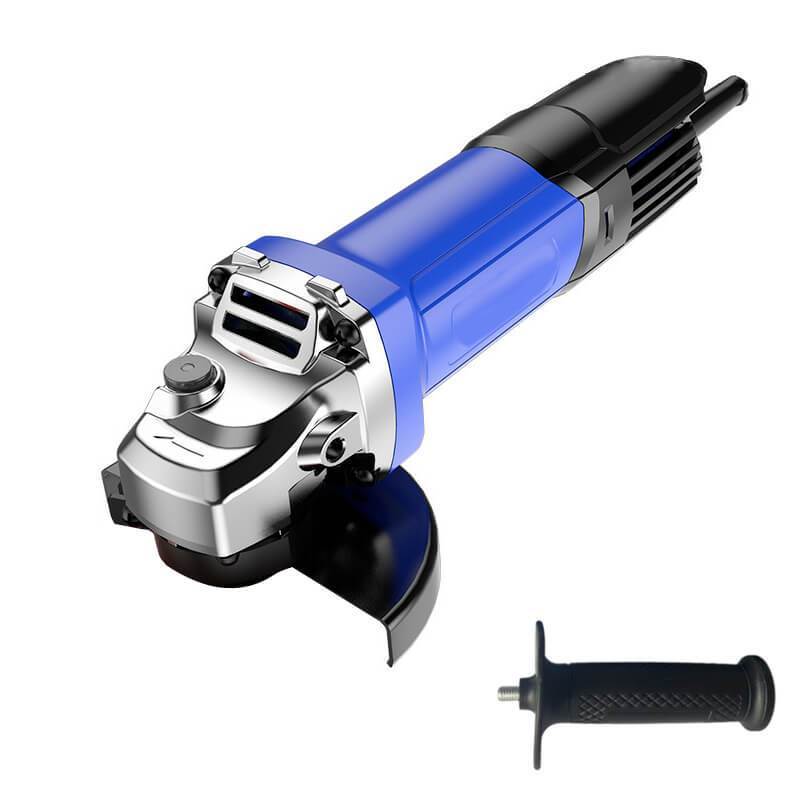 Introduction:

Angle grinders and chainsaws require skill and precision when working with wood and metal. You can always use the help of brackets because your safety should be your utmost priority. This bracket comes with an ergonomic handle that makes the equipment easier to maneuver while in operation and for carrying it anywhere. It makes the use of both hands safer and more natural when there's a need for specific delicate cuts and polishing. You, therefore, become more efficient when working. The protective cover shields you from much of the debris that may cause harm or distract you from concentrating on your current project. Getting something in your eye may cause a disaster if you're not even wearing protective eye covering. The use of this bracket is for someone with ample experience of using such equipment. 
Features:
【
High-Performance
】Combine the angle grinder with this Chainsaw Refit Kit, it can become a household electric chain saw which is effectively improve the efficiency of your woodworking, handles a variety of yard clean-up and maintenance projects.
【
Ergonomic Design
】Ergonomic ABS anti-slip handle makes it convenient and stable to hold in the hand, High-quality aluminum alloy bracket makes this chainsaw balanced, maneuverable, and comfortable to operate.
【
Smart and Reliable
】The chainsaw with guide oil hole, Visual oil window automatic fuel injection design, automatically add lubricant to the chain to reduce chain wear.
【
Premium Quality
】Steel + ABS plastic, guide bar material spring steel, chain material high carbon steel for fast efficient wood cutting, iron baffle prevents the spattering of wood scratches and effectively protects your safety.
【
Versatile
】 The chainsaw can be widely used for cutting firewood, felling, cutting wood, pruning, pruning and gardening. angle grinder makes easy work of cutting through metal pipes, stone slabs and ceramic floor tiles, as well as rust and paint removal. You can make an outstanding performance in various places such as gardens, patio, and orchards. We recommend one per family for do-it-yourself and garden work!
Specification:



Chainsaw Refit Kit
Angle Grinder
 How to Use:
1、Press the angle grinder spindle lock key, use a wrench to remove the pressure plate, replace the lower pressure plate with the gear in the Chainsaw Refit Kit, put on the upper pressure plate, and tighten it.
2、Put the rubber washer on the angle grinder, put on the bracket and adjust the angle of the bracket, then use the hexagon wrench to tighten the hoop screw and put on the chain tension adjustment screw.
3、Place the chain on the guide rail, pay attention to the direction of the chain edge, put the chain on the gear, put the guide on the bracket, and then pass the pin on the adjusting screw into the guide hole.
4、Assemble the shell, metal shield and two screws, install them on the bracket and tighten the screws by hand. Don't tighten the screws yet.
5、Use a Phillips screwdriver to adjust the chain tension adjustment screw. Turn clockwise to tighten the chain, and counterclockwise to loosen the chain. After adjusting to proper tension, use an internal hexagonal wrench to tighten the two screws on the bracket shell.
6、Finally, install the auxiliary handle of the chain saw with the direction to the left. Pour the lubricating oil into the oiler before using the chain saw, open the smallest hole on the oiler, and it will start to lubricate automatically.
Note:
1. Please wear goggles and safety gloves during work.
2. Please observe the chain when you use it for the first time, re-adjust the chain after about 3 minutes of work, so that the chain tension is fully open.
3. When you want to tighten or loosen the chain, first you need to loosen the hexagonal screws on the shell. Then you can loosen or tighten the cheek screw with a screwdriver bit. When you think the chain is right for your job, you can re-fix the hex screw and then use the chain saw.
Package List:

Chainsaw Refit Kit:
1 * Chain Saw Bracket Main Body
1 * Guide Bar
1 * Chain
Chain Saw Cover
1 * Baffle
1 * The Handle
1 * Parts Pack
1 * Rubber Band
1 * The Instructions
Angle Grinder:
A. Ship From UAE Warehouse
Standard Shipping
Handling Day: 1 business days, Arriving Day: 5-7 business days

Cost: Free

Country/Region:UAE
B. Ship From Sourcing Place
Standard Shipping
Handling Day:1-3 Business Days, Arriving Day: 15-45 Business Days

Cost: Free

Country/Region:Sourcing Place

COVID-19 | Shipping

As the world adjusts to the impact of the coronavirus (COVID-19), shipping is inevitably affected. Every country and region is facing shipping delays of various degrees. ECVV.ma team will do our best to keep you updated and informed about your order during this time as new information becomes available.

Regions heavily affected by the pandemic will be subjected to possible delays. Thank you for your understanding and we apologize for any inconvenience this may cause you.

If you have any questions or concerns about your order, please email us at ma@ecvv.com and our team will be happy to assist you, 7 days a week.
Shipping FAQ

1. When will I receive my order?

For Standard Shipping from UAE warehouse: Most items are usually shipping in 5-7 business days.  For Standard Shipping from Sourcing Place: Most items are usually shipping in 15-45 business days. We do recommend allowing up to 3 weeks for your order in peak times, such as a special offer or promotion.

If your order is backordered or not shipping for two or more business days, please feel free to contact us immediately at our Support Center: (+971) 4 548 9019 and we will do everything we can to accommodate your request.

2. How do I track my order?

Your delivery confirmation email will contain your tracking number and order details.

3. Taxes and other charges?

Depending on the country of delivery, you may be required to pay extra tax or charges such as VAT and/or import duties.

4. About the Shipping fee?

Standard Shipping is free shipping.




ECVV.MA guarantees free returns and replacements service if you are not 100% satisfied with our products. Kindly return the purchase for a refund up to seven (7) days from the date of the order delivered. If you have any problem with the item please feel free to contact us immediately at (+971) 4 548 9019.
Returns Process.
Please contact us if you want to return an item. Return without prior discussion and authorization will not be accepted.
When returning a product, please do the following:
Please email ma@ECVV.com. we will keep you updated by email.
Please put a form inside your returned package with: the reason for return, the purchase date, the original invoice number, and the item number for the product.
Proof of purchase from ECVV.MA is required for all returns.
Ship the package to the designated address, the address will be provided by email after your return application is submitted.
Please prepay shipping – ECVV.MA does not accept Cash on Delivery (C.O.D.s).
Request For The Returned Items.
Items received unused (without the smell of perfume), unwashed, not in damaged or worn condition (only when the items are defective or damaged upon receipt).
Items received in original packaging and would not make any influence for second-sale.
Non-returnable items.
Custom items or designated sourced products
Emergency response items
Items Marked "Non-cancellable: and/or "Non-Returnable"
Product is slightly used or altered
Product is damaged due to misuse/overuse
Return and Refund Process
Once your return is received and inspected by the fulfillment centers (usually within 3-5 working days of receipt), your refund will be processed and a credit will be automatically applied to your original method of payment within 15 working days.
ECVV Cancellation Instructions. 
Due to the speed we fulfill your requests, we are unable to cancel orders for immediate shipment. If your order is backordered or not shipping for two or more business days, please feel free to contact us immediately at our Support Center: (+971) 4 548 9019 and we will do everything we can to accommodate your request.
Replacements
You can replace an item if your replacement meets certain criteria.
Shipped to a delivery address within 

Morocco

Shipped and sold by ECVV.MA
Not an Add-On item
Not marked as a gift
Wasn't purchased with a promotion (except for free shipping promotions).
Note: In most cases, you are required to return the original item received for a Replacement. You'll need to return the original item with the guide of ECVV.MA Support Center to avoid being charged for both the original and replaced items.